This is not strictly Nuffield related but David ( Davie) Shiell has helped me restore machinery and work on Nuffields over the years and pictures and videos of him driving my machinery has appeared on the forum.
Sadly on Wednesday 17th of July he passed away aged 96. As everybody on this forum is into preservation I thought he was worth a mention.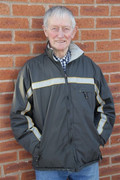 David was born on 2 of July 1923 in Kelso and after school served an apprentice ship at Clock Mill and worked there for a period of 17 years. He then went to work for Rickerbys for 4 years following which he moved to the midlands and worked for Bamfords for 14 years. Finally he went to work for Class UK for the last 15 years of his working life before retiring in 1988.
Now retired David got stuck into preservation and with a small group of other men restored a series of Combine Harvesters that are now on display at The Scottish Museum of Rural Life at Kittochside, they have supplied me with the following information
1. CLASS Columbus DRG 194c – Manufactured Germany 1966
2. CLASS MDB – Manufactured Germany 1937
3. Holt Caterpillar 38 – USA 1929
4. Allis Allcrop 60 – USA 1940
5. Massey Harris 21 – Canada 1941
6. Clayton Shuttleworth Combine Harvester and Cutter Bar – Lincoln 1931/32
7. Massey Ferguson 735 – Kilmarnock Works 1950's
8. McCormick Deering International Harvester Travelling Threshing Mill – USA 1938/39
Machines 1 – 6 restored by Davie Shiell and Ian Colville
Machine 7 Davie Shiell, Ian Colville and Ian Fleming
Machine 8 Davie Shiell, Ian Colville, Ian Fleming and Donald Robertson.
There was also a Fisher Humphries Lely Mk11 donated by Ian Fleming but it doesn't say if it was restored by Davie.
In 2000 Davie and his wife moved from Scotland to Leicestershire to be near their daughter and see their grandchildren grow up as his daughter had married and settled in Leicester.
In 2001 my life changed forever, one day there was a knock at the door and Davie introduced himself as he had heard in the pub that I had vintage tractors. Six month later Davie returned very excited as a friend of his had a grey fergi that needed restoring, had I a shed he could use? Thus followed years of working together restoring machinery.
First I had a 1958 Nuffield with all the options, indipendant pto, diff lock & draught control but a knocking big end, after that was restored around 2005 Davie got to hear of a International 50T trailed baler on a local farm with a tree growing through it, that to came to my farm for restoration. The baler was so rotten that a new chamber had to be pressed, it took a little searching to find a press long enough to press it!
In return for the restoration the owner of the baler gave me a Fordson N to restore, Davies knowledge of the Fordson was invaluable but my influence saw the fitting of a Perkins diesel from a Austin Montego and the "Montegoson " was born, this tractor went on to win best conversion at Newark Vintage show.
Following the Montegoson Davie was getting towards his ninetieth year and his hands began to shake a little and he hung up his spanners, but he still appeared at my farm occasionally to see what I was doing and perhaps see something I was repairing.
In 2016 his wife Mary passed away and I took him under my arm a little, going out for meals etc and in 2017 I took him to Newark Vintage show for the day which delighted him. On another occasion I let him bale the last swath of straw in a field.
In 2018 Davie drove himself to Scotland to attend the Scone vintage show, but his health started to deteriorate in 2019 and was taken taken ill two days before his 96th birthday. He passed away peacefully in a care home on 17th of July.
He leaves a daughter and two grandchildren and a legacy that few can match!