Thanks for letting me join your tractor forum! A short introduction why I need your help: A friend of me lends me his Nuffield tractor so I can mow my grass
. In the last plusminus 5 years it probably ran not that much and now I have it in use for mowing my grass it probably has to work a bit harder. We have encountered some engine problems, and I have quite some experiences working on cars, but not on tractors, and I can use some advise. The problems in chronological order:
(Engine: 4DM (I think
))
1) Coolant disappearing very fast and rising oil level: After removing the head I found two cracked cylinder liners. The other two were worn as well so I have removed them all.
2) Worn bearings on conrod big-end bearings
3) Maybe worn main bearing crankshaft
I have changed a lot of heads on car's, but I have never had to check whether the crankshaft bearing-dia's are still within tolerances. At the moment I cannot measure the main bearings because they are too big for my micrometer, but I have measured some of the crankpin diameter's and I have made a graph to visualise my measurements and available bearing sizes.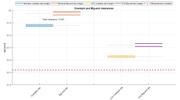 The first two 'lines' represent nominal ranges for the crankpin dia and the big-end bearing dia, including the nominal clearance. I found out that the bearings in the big-end are 010 ("?) bearings. I have added these nominal dia's as well in the graph, and I have added my measurements of the crankpin's: 61.52mm (phat dashed line). My thoughts: The crankpins are worn more than allowed and I have to go to 020" bearings, and I have to refinish/turn the crankshaft?
I can of course visit an engine rebuild shop, which I will probably do this week, but I'm curious if my reasoning is correct.
Some pictures of the tractor: