Posts: 1
Joined: Tue Sep 04, 2018 6:33 am
---
Site Admin
Posts: 184
Joined: Fri Mar 30, 2018 6:53 pm
Hi

Have a look in the FAQs section of the forum.

There are a couple of posts that show you how to do this.

Regards

Jamie
Jamie Davis

Past - Nuffield 10/60
Present - Nuffield 460 & Nuffield 4/65
---
Posts: 70
Joined: Sun Apr 01, 2018 8:22 am
Hi there. As my wife wrote on the facebook site the model was only built between roughly October 1968 to Oct 1969. The number you quoted is actually missing the build serial number which should have been 4 digits on the right after the numbers you quoted. 25P denotes its a 4/25 with a petrol ( gasoline) engine. The next group refers to the build specification which would show if hydraulics, lights, drawbar, loader pipework etc were added. The actual serial number would then have been added starting at 4302 and the run ending at 6300 so only 2000 of this model were built. Serial number 6301 started the Leyland 154 run. Tractor 6395 was registered for the road in the Uk in February 1970. Most of the gasoline versions went to the USA because of the cheapness of the fuel compared with the UK and rebadged as Long like yours. I have added a picture of the front page of the brochure ( hopefully). Regards John Poulter.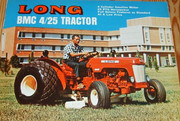 ---
Posts: 159
Joined: Fri Mar 30, 2018 8:05 pm
Hi John - I've sent you a PM on a different subject.
JVP
If it ain't bust don't fix it!
---