I put this on FB also hoping someone can shed some light on it.
384 pto query. I had to take the tombstone off after dropping part of the valve assembly down it (don't ask).
I am following manual regarding removing the pto shaft before tightening it all back up, but am having an issue removing the shaft. I have x2 bolts and x8 nuts plus brackets off, but the shaft only comes back roughly 5 or so inches (90-100mm)? I have tried with selector in hyd and pto but no luck? Any one know what needs to be done? Advice always appreciated.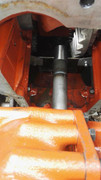 Regards
Tom