Hello from sunny Australia! I'm on 55 horribly overgrown acres in south east Queensland, and needed to get a tractor. With dollarydoos in short supply, a Kubota (acknowledged here as the best) of any age was out of the question, so I did some searching and found a Leyland 255. I never knew Leyland made tractors, but parts availability looked good, and the price was low enough to take a gamble.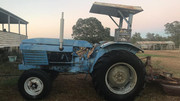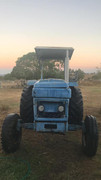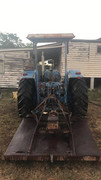 She's not exactly in showroom condition, but nothing a whole lot of elbow grease and rattlecans can't fix
The price went even lower when I picked it up, as it refused to start, just clicking even with a jump start. When I got it home I worked out the solenoid was bad, so ordered one from the UK ($40 cheaper than getting it from a city 3 hours away
). That didn't fix it, so I took the starter into the local auto electrician and three weeks later (they lost the paper with my number
) it was back with the stuck brushes freed and commutator machined. Still no go.
It turned out the battery was no good under load, so on went a new battery, and she fired up first time and ran beautifully
I've painted three of the panels (Sky Blue, which is lighter than the correct colour but it's cheap to buy) and hopefully I'll have the rest done within a week or so. Then there's a piece of stainless steel to go on in place of the missing grille, the radiator needs a REALLY good flush, an oil change, remove and replace the who-knows-how-old fuel, and fix the slasher. Plenty of other minor things to do like tidying up the electrics.