Hi all,
I'm new here. I will introduce myself when I decide to stay
First of all, I'm from Belgium, so English isn't my first language.
I'm looking to buy an oldtimer tractor, don't really have a preference for a certain brand or type, but I like to be a bit different than the rest. Looking at what shows up at the local meetings, there are already plenty of Ferguson, Fordson an Deutz... Nuffield? Never seen one around here!
So, last week I stumbled upon a 1958 Nuffield Universal four (4DM) online and I liked the looks of it. Started searching online for some info info and I found this forum, a workshop manual and some basic info.
With all this in mind I made an appointment with the seller to see the tractor in real life. It was a 200 km drive, but the tractor didn't disappoint. The owner did however. Very nice and pleasant guy, but doesn't know anything about tractors or technique in general. He had the tractor for a year, did a few drives with it, but didn't do any maintenance on it because he didn't know it was necessary.
So, the looks of the tractor didn't disappoint, the tractor looks very original, it even has what looks like the original toolbox (mounted behind the seat, don't know if that's the original location) a few spots of paint missing, a few things touched up, nothing uncommon for a 60 year old tractor. No rust, only the battery box has some rusted through holes, but that's not uncommon with battery acid.
It has a new exhaust, not original (it has 'Honda' stamped in it
)
It has been converted to negative ground, but still has what looks like the original generator. A few dash meters have been replaced, probably because the originals needed positive ground. All meters work, only the rpm and hour meter don't work.
Started the tractor, it was 15C outside and the tractor started without hesitation (without enrichment, the owner didn't know about enrichment)
No blue smoke.
Did a short drive, it shifts quite smoothly, smoother than the John Deere 1120 I drove a while ago. I did miss a foot throttle a bit. No smoke while driving constant speed, a bit black smoke when speeding up.
Oil pressure was good.
PTO and lift work but have probably been mislabeled by the previous owner (out-hydr-pto, while it seemed to be out-pto-hydr).
Clutch has been replaced before the current owner bought the tractor and as far as he knows the engine has never been opened.
So far so good, but there are a few things which made me ask the seller some time to consider (and to tell the story and ask questions here
)
After starting the tractor I held my hand under the crankcase ventilation pipe and it blew some air out at idle. That got better when revving up. Don't know if that is normal or how much is normal?
My main concern however is a sharp tocking sound from the engine. Hard to describe (now that I'm typing this I think I should have filmed it) it seems to smooth out when revving up. I tried to pinpoint the location the sound was coming from, but that's very hard to do... You don't hear it at the exhaust side, only on the intake side and it seems to come from around cilinder 1/2, but there's a lot going on there with the waterpump nearby (that hasn't been greased for quite a while and it looked like the pully didn't run completely straight) the injection pump nearby (which had no oil in it, I thought a Simms pump needed some engine oil in it?)
As I couldn't pinpoint it, it makes me a bit afraid of work to come... It could be something as easy as setting the valves or an injector making some noise, but I'm afraid it might be something worse like a bent rod, engine bearing, tilting cilinder,...
Are there any known issues with this type of engine? Thinking worst case, any idea what the cost of an engine overhaul is? Is it something I can do myself? I am quite technical, but never worked on engines before.
I'm feeling conflicted, the tractor looks great in my opinion. On a 60 year old tractor I like the 'used but not worn' looks more than the 'look at how shiny new I am'. But that engine noise is making it a hard decision. It's not cheap (but it is a rare tractor around here) transport wil also be around 250-300 EUR. It would be sad that after a few drives I have to pay 1000 because the engine breaks down.
Images clickable for fullsize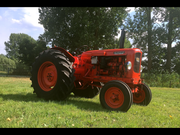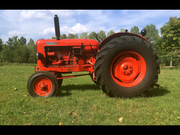 Any input appreciated!
Frederik